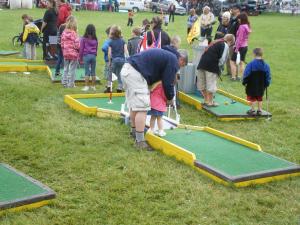 BELLS & WHISTLES MINI-GOLF

We are a travelling Miniature Golf Course and we have brought family fun to the lower mainland for the past 18 years. Our 9 Hole indoor/outdoor courses can be set up within a 1,500 square feet (30 by 50 feet) area on relatively level grass, paved surface or school gym. If required we can also set up and operate an 18 Hole miniature golf course. Our miniature golf courses contain inter-locking fairway modules and beautiful obstacles including light houses, pirate ships and windmills. Currently, we have 3 themes: Pirates of Gold Putter, Canada the Beautiful, and Ye Old Course. We provide fun and entertainment for the whole family since our courses are challenging to children and adults as well.
We are a commercial member of the BC Agricultural Fairs Association and operate miniature golf during a number of fairs including the Cloverdale Rodeo, Agricultural fairs in Abbotsford, Maple Ridge and Agassiz. We do many special events at local schools, churches and parks including Canada Day Celebrations in Langley and Abbotsford, the Cranberry Festival in Fort Langley, the Berry Festival in Abbotsford and many events arranged by business improvement associations and community groups in the lower mainland. We run miniature golf tournaments for fund raising and team building at corporate events.
Our home base during the summer months is at the Yarrow Fun Farm, located at Regional Road 3 and Hare Ave in Yarrow. A golfing event can be arranged at the farm if prior arrangements are made. During the summer months, the Farm grows and sells beautiful Dahlia flowers, fruits and specialized non-sprayed veggies.
For more information or to get a quote for your special event please send an e-mail to: